Quick Summary: Since the launch 1.5 years ago, Axkid ONE has become a new favourite for many parents out there – and it is not hard to see why! However, Axkid are a brand that takes on board feedback from customers and retailers and always strive to refresh and improve which is why this month we are seeing the launch of the new Axkid ONE 2!
---
Even though the visual changes are not obvious to the eye, more than 150 updates have been made to improve the overall experience of the car seat. As car seat specialists, let us guide you through the most important updates and popular features of Axkid ONE 2.
Unique features of Axkid ONE and Axkid ONE 2
The Axkid ONE has always been a car seat ahead of its game and we are pleased to see that the unique and fundamental functions of Axkid ONE will feature in Axkid ONE 2, but with an even higher quality and integrated functions.
· Sliding seat technology that gives the best legroom on the market
· Long-range safety program - only need for one rear-facing car seat through childhood
· 30 seconds installation guarantee
· Advanced sleep well system with a stepless recline function
Improvements
Many of the updates cannot be seen with the naked eye, but you and your child in theory will feel and experience these improvements. One such update is the harness routing, which now has reduced friction and therefore moves more smoothly than before. Axkid has developed more than 150 changes to improve the user experience and safety of the Axkid ONE 2. From the smallest screw and components, playing key roles in some of the beloved main features, to larger visual differences such as the headrest and inlays, the Axkid ONE 2 has once again, set new standards on the car seat market.
Headrest improvements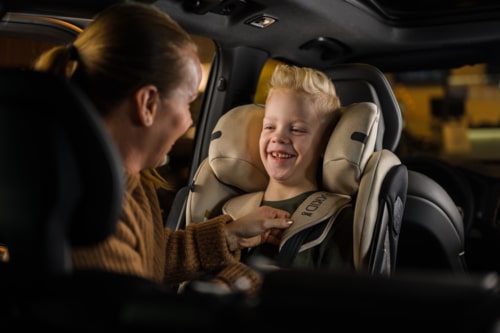 The headrest on the Axkid ONE 2 has had quite a noticeable update - especially with the adjustment which is now a one-push button making operating it much smoother.
There are however less obvious updates to the headrest which are worth mentioning, They have improved the shape and geometry of the headrest which combined with its force-absorbing technology helps to ensure a child's safety should you be involved in a collision.
New inserts and increased comfort
All parents worry about how comfortable their child is in their car seat. Both the inserts for the Axkid One 2 (for 0 – 60 cm and 60 – 105 cm) now have an improved fit, providing a child with even more comfort than previously. The 60 – 105 cm insert benefits from ventilation holes and a durable design that easily adapts to the seat and fits well. This, together with the advanced sleep well system will allow a high comfort for all children regarding size and length.
The Axkid ONE 2 also has new and improved fabrics which will appear on all the colours. The new updated textile cover gives a much better fit and will improve the overall experience of the car seat due to a higher level of comfort, and we all want our little ones to be comfortable!
In a nutshell - what you really need to know about the Axkid ONE 2...
Here are our top 3 reasons why we love the Axkid ONE 2
- Comfortable rear-facing up to 6-7 years
- Install easily and failproof in under 30 seconds
- Adapt the legroom even after installation thanks to the Dynamic Legroom System!
Keep your eyes peeled for more news about Axkid on our website and social platforms.