Quick Summary: If you live up a farm track, love hiking or simply spend a lot of time walking on rough fields and rutted paths, brands like Thule, Mountain Buggy and Out'n'About have designed pushchairs specifically for you! But they may not be for everyone as they have their compromises.
---
---
Multi-terrain or all-terrain?
Pushchairs classed as all-rounders such as the Oyster 3, Venicci Tinum, egg 2 and UPPAbaby Vista - there are plenty on the market to suit every taste and budget - will take you around town and cope perfectly well with the grass at the park, days out at National Trust places and other everyday adventures. They tend to be more compact, neater folding and often offer a wider range of features than a true all-terrain, but they can quickly get out of their depth when the going gets really rough.
Another reason you might choose an all-terrain pushchair is the fact that they usually have higher weight limits and larger seats to take your toddler on their off-road walks, for longer.
---
What is an all-terrain pushchair?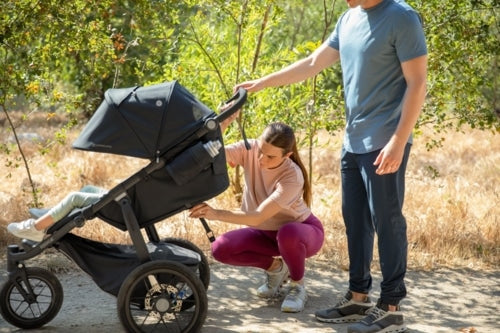 A true all-terrain pushchair is designed specifically for tackling the roughest of tracks, and is usually easy to identify at a glance! For a start, it will generally be a three-wheeler. This is not for looks; it really helps over bumpy ground as one wheel at the front is much easier to push over obstacles when there are ruts or tree roots to deal with. 
The wheels will be large too - at least 10" in most cases - and chances are they'll have air-filled rather than foam-filled or solid tyres. While punctures are a risk, these offer the smoothest possible ride for your little one and, when pumped up to the recommended pressure, an incredibly easy push for you. If you're venturing far, it's worth packing a puncture repair kit and pump just in case. You don't want to be stuck with a flat when you are halfway up a mountain! Of course, if you do find punctures are an issue, you could consider having the tyres filled with slime that you'll find in many bike shops, but it will inevitably impact the performance. Some all-terrain pushchair brands already use alternative tyre materials or offer the option of puncture-proof tyres to purchase and swap, if you want the peace of mind that you're never going to lose a battle with a sharp stone or thorn.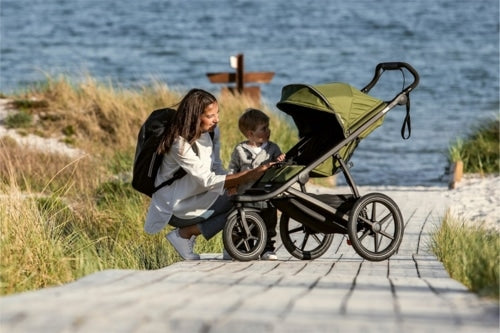 The seats on three-wheeled off-roaders are almost all a 'hammock' design, meaning the fabrics are hung from the main chassis rather than attached to a separate seat unit frame. Benefits include being certified with a higher weight limit and a comfier ride for your child, and they can be more cosseting with higher sides and an enclosed back to the seat.
They also aid the quest for a more lightweight while substantial pushchair as they don't need an extra seat frame and recline mechanism. The downside is that the seat can't be detached and popped back on facing you.
---
Travel system options
From-birth travel system options can also be limited, with some all-terrains taking a soft carrycot on the fully reclined seat rather than a fully featured hard carrycot with all the versatility that can give you.
A slung seat will generally recline to a complete lie-flat, making it suitable for your little one's very first trip, which provides flexibility even if you'd ideally prefer the protection of a carrycot. The recline is likely to be operated by a strap system, which can be fiddly, and the design does mean the seat often won't have a bolt-upright position, which some toddlers can find frustrating.
Storage on all-terrain pushchairs is again practical and tailored to an active, outdoor lifestyle. Look out for all manner of clever pockets being utilised across the hood and seatback, while under-seat baskets range from huge with zipped compartments (to prevent those essentials from jumping out on rough going) to optional. The Out'n'About Nipper V4, for example, comes without one to give you increased ground clearance over tussocks and mud, though a detachable basket is available as an additional accessory if wanted. 
---
Larger folds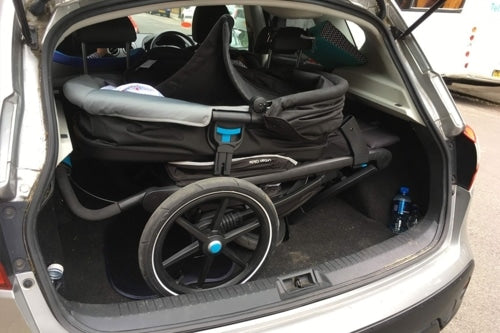 The fold on all-terrain pushchairs is unsurprisingly larger than on their all-rounder counterparts. This is due not only to a large, robust chassis but the fact that the fold operation in many cases only allows for the front wheel and frame section to be tucked under the main body, still leaving a substantial package. While you'll need a good-sized car boot, brands like Mountain Buggy and Thule have mastered the folding process with simple one-handed, one-piece operations for convenience on the go.
If you live or walk in a hilly area, keep an eye out for pushchair models with an extra handbrake feature. Perfect for slowing descents, these brakes sit up on the handlebar and can be operated with 2 fingers to help your control on the way down. They also work really well in town on steep hills when you have a toddler on board and a bag full of shopping stashed below!
---
Other options to consider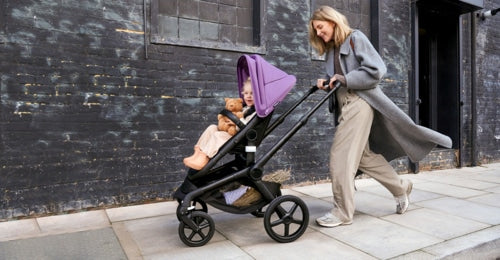 If you are not certain you fancy heading up Ben Nevis with your newborn, there is something else to look at. Let's call them a crossover, a great compromise between extreme off-road and the high street. These models have good - but not ultimate - all-terrain capability, boasting great suspension and large wheels, but are designed in a more typical pushchair style, with reversible seats, full carrycot options and perhaps even a nod to fashion in their fabrics and detailing. These have been created by top-end brands like Bugaboo and iCandy to give you the best of both worlds but do come with a price tag to match!
Of course, a pushchair isn't the only way to take your baby with you into the depths of the countryside. If your adventures in the great outdoors are more infrequent, your local routes involve stiles or other obstacles, or you need extra hands for dogs or older children it could well be worth taking a two-part approach to your adventures, choosing more of an all-rounder as your pushchair and using a good baby carrier (initially on your front, then a structured backpack style as your little one grows) for getting off the beaten track.
---
Conclusion
True off-roaders demonstrate a no-compromise approach to their discipline. The biggest hurdle for most families will be the folded size, but from our experience, once you have tried one you will realise that they offer way more than just trail bashing - the super-smooth ride and push and all that space make them brilliant on the school run as well.
It might be that you decide you don't really need something quite so extreme, and can settle on a multi-terrain pushchair that will handle your park walks with the dog just as well.
But if you do need the capabilities given by a pushchair with three wheels, great suspension and air tyres, we're sure you won't be disappointed by everything that these all-terrain pushchairs can do, as well as everywhere they can take you.